What is Dental Monitoring?
At Lowry Orthodontics, we strive to be on the frontline with orthodontic technology that will guide you to have a better experience with your treatment. We're proud to introduce our newest system, Dental Monitoring.
With Dental Monitoring you can now schedule virtual appointments, which will save you time and money, with fewer in-person appointments. Instead of coming into the office for an appointment, you submit a series of photos to our doctors and they will examine your treatment progress. She will then send feedback regarding your treatment. It's like you're taking us home with you!
With your virtual appointments, you will be able to ask questions about your treatment without scheduling an appointment. Not only does Dental Monitoring reduce the number of trips to the office, it also can reduce treatment time by keeping you on track.
How it works:
Receive a notification from Lowry Orthodontics that it's time for your scan
Attach your cellphone to the scanbox and scan your teeth to create photos
Submit the photos along with any questions you may have
Our doctors will examine the photos and be in touch with your next step of instructions:

Schedule an appointment for wire changes
Schedule an appointment to fix broken brackets/attachments
Move to your next aligner (or stay in your current aligner a little longer)
Wait to schedule your next appointment to allow the wires/aligners to move your teeth a little longer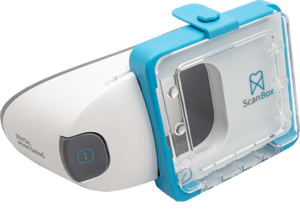 *Over time, you can monitor the progress of your treatment with the photo time lapse technology that will show you how your teeth are moving towards your goal.
Get In Touch
Our dental treatments will give you a beautiful smile. For any questions, please feel free to call or text us! A team member will happily answer your call or reply to your text as we offer 2-way texting.